This year I read about 65 books! You can see my list
here
. Fourteen of those were manuscripts that I beta read for fellow writing friends. They're denoted by picture books in my reading list, except for a few which got book deals this year and are those lovely gray books on my list with no cover yet! It was hard to narrow down my favorite books. I'm not super critical when it comes to reading and always just seem to enjoy the experience. But as I went back to my list, these were the books that stood out to me the most, the ones I recommend religiously. Enjoy!
Skyscraping
by Cordelia Jensen: I read a lot of verse novels this year. (A lot!) But this one has really stuck with me. It's the story of a girl who discovers her parents open marriage by accident and then has to forgive her father as he dies of AIDS in the early 90's. Heartwrenching and beautiful.
Echo
by Pam Munoz Ryan: Both Rob and I loved this book. A historical fantasy during WWII but focusing on places and kinds of people that haven't been done to death. You'll love the beautiful ending. A well deserved Newbery honor book.
Paper Wishes
by Lois Sepahban: A historical fiction about a girl in a Japanese internment camp. The voice is lovely, the details were fascinating and it felt more like an intimate portrait of Japanese culture.
We Were Liars
by E. Lockhart: I read this on a plane ride to a writers conference and sat and read it in line to get my rental car because I COULDN'T PUT IT DOWN!
A Crooked Kind of Perfect
by Linda Urban: This is one of the most perfect middle-grade contemporary books ever written. The character is so well drawn and you just love her. She's got an addictive voice and a cast of characters you just want to be with. Funny and sweet.
The Star Touched Queen
by Roshani Chokshi: Be transported! This is an Indian-inspired fantasy. The language is
lush and gorgeous. It's romantic and exciting and unexpected!
Red Rising
by Pierce Brown: Rob and I read the Red Rising trilogy together and it was so good! High octane, bloody, and thoroughly thought provoking dystopian. I recommend it to anyone who thinks they would like a bit more grown up and politically charged version of Hunger Games.
El Deafo
by CeCe Bell: I also read a lot of graphic novels this year. I didn't expect to love this book so much. I sat down to just sort of flip through it before handing it off to Jane and ended up just reading it for the next 90 minutes. Jane has read it 2.5 times and it has fostered some amazing conversations about disability and inclusion.
Beautiful Blue World
by Suzanne LaFleur: This is the beginning of a MG fantasy series. You'll find the setting very close to WWII, but it is a fantasy world. It's about a people at war who choose to utilize the minds of their brightest children and one girl who is chosen for her gift of empathy. Really lovely look at humanity on both sides of a conflict.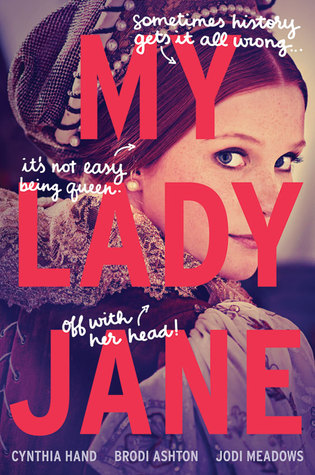 My Lady Jane
by Cynthia Hand, Brody Ashton, and Jody Meadows: This was probably the most fun book of 2016. Hilarious, fast paced, with a really satisfying love story. This book is a comedic, historical fantasy revolving around Lady Jane Grey who was queen for nine days before getting her head chopped off by Bloody Mary. Except, according to the narrator of this story, history actually played out a little differently. I read this book with a great big smile on my face the entire way through!
Where the Mountain Meets the Moon
by Grace Lin: This was a favorite read-aloud for Jane and I this year. An Asian-inspired fantasy, this book won a Newbery and with good reason. A perfect reflection on gratitude for young and old alike.
As a writer, I also got to read several books that aren't actually published yet. Here's what you should keep an eye out for in 2017.
Frostblood
by Elly Blake: I loved this fantasy so much! I anticipate it being up there with Leigh Bardugo's Grisha trilogy.
Macy McMillan and the Rainbow Goddess
by Shari Green: Another lovely verse novel by Shari Green about family, friends, and love.
The Last Place You Look
by Kristen Lepionka: A new kind of private eye is hitting the streets this year and I think you're going to love her and this super exciting mystery.